Daily Tasks are sometimes referred to as Quests. There is an achievement for accomplishing a certain number of quests, which refers to these daily tasks.
Long Daily Tasks
Edit

Example of long daily tasks, Deficit and "Road to Success"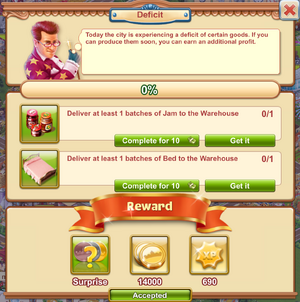 Short Daily Task
Edit
Example of Short Daily Task, Deficit

Good Bargain Task
Edit
Example of Good Bargain Task

Fire / Medical Aid Daily Task
Edit

Visiting Friends, Cleaning / Repair Task
Edit
Ad blocker interference detected!
Wikia is a free-to-use site that makes money from advertising. We have a modified experience for viewers using ad blockers

Wikia is not accessible if you've made further modifications. Remove the custom ad blocker rule(s) and the page will load as expected.