Achievements Overview
Edit
Achievements are given when certain tasks are accomplished in the game. There are two basic types of achievements: Tiered and One-Time.

When an Achievement is accomplished, a notification appears near the bottom of your screen, similar to the example shown here. At the same time, a reward becomes available at the
Administrative Building
. The reward is fixed, and is different for each Achievement. The reward for most achievements includes a certain number of achievement points, represented by

. Rewards are given when enough points have been collected. Read more about
Achievement Rewards
here.
You can find a list of Achievements below, or in the game at the Administrative Building. The lists include both Achievements you have accomplished, and those that have not been accomplished.
Description of Tiered Achievements
Edit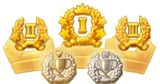 Tiered Achievements require some action to be performed multiple times. The more times the task is performed, the higher achievement level is attained, and the larger the reward. Tiered achievements have five levels, bronze, silver, Gold III, Gold II, and Gold I.
In some cases, achievements can only be earned by performing the necessary tasks consecutively, such as with the "Incredible Majestic" achievement, which requires the "Good Bargain" task to be completed up to 50 times in a row. Other achievements are cumulative, and can be performed any time, such as the "Treasure Hunter" tasks, which requires the player to find an open a certain number of treasure chests.
Special Note on Tier Names: Tiered achievements originally had a different name for each level. As of late 2015, it appears that new achievements, and possibly many of the old Achievements, now have a single name, regardless of the Achievement level. As a result, newer updates show tier names differently, with the single name bold, and the older names in italics, like this: Wealthy (Frugal / Economical / Wealthy / Calculating / Affluent). If we can confirm that the old 5-name approach is no longer being used, we can delete the names in italics entirely.

Description of One Time Achievements
Edit
One Time Achievements vengono dati solo una volta. Alcuni richiedono di eseguire solo una singola attività, come la costruzione di un certo tipo di edificio. Altri richiedono la costruzione o la raccolta di un certo numero di edifici o risorse.
Many One Time Achievements are "Secret", which means the requirements to accomplish the achievement are not shown. These are identified with this text: "A secret achievement. You have to unlock the achievement to view its description." Once the achievement is accomplished, the description becomes visible.
Achievement Categories
Edit

City
Production
Social
Events
Special
Tiered Achievements
Edit

Tiered Achievements: City
Edit
Heavenly Gift
Use a balloon bonus xx / xx / xx / 15 / 20 times -- Reward:
Mover
Move 25 / 50 / 100 / 200 / 400 buildings to the Warehouse -- Reward:
City Builder (Carpenter / Builder / Subcontractor / City Builder / "Best Block" Title):
Build 3 / 15 / 50 / 100 / 150 Residential Buildings
Reward:xx/ 40 xp, 1,000/ xx/ xx/ xx
Lord of Mirth (Entertainment Seeker / Party Organizer / Maker of Joy / Lord of Mirth / Boogie-Woogie Man):
Build 5 / 20 / 50 / 100 / 200 Entertainment Facilities
Reward:xx/ xx/ 75 xp, 5,000/ xx/ xx
One with Nature (Nature Lover / Naturalist / Protector of Nature / Great Ecologist / One with Nature):
Place 5 / 50 / 100 / 250 / 450 Decorations
Reward:xx/ 10 xp, 3,000/ xx/ xx/ xx
Warehouse Director (Warehouse Manager / Senior Warehouse Manager / Warehouse Supervisor / Warehouse Administrator / Warehouse Director):
Upgrade the Warehouse to level 3 / 5 / 7 / 9 / 10
Reward:xx/ 500 xp/ xx/ xx/ xx
Esteemed Liquidator (Opponent of Comfort / Destroyer of Homes / Disrupter of Order / Agent of Chaos / Esteemed Liquidator):
Demolish 10 / 20 / 75 / 150 / 250 Residential Buildings
Reward:xx/ xx/ xx/ xx/ xx
Chief Dispatcher (Dispatchers Assistant / Dispatcher / Chief Dispatcher / Navigator / Chief Navigator): 
Send cars on trips 5 / 50 / 200 / 500 / 1,000 times at the Terminal
Reward:xx/ xx/ xx/ xx/ xx
On Baedeker's Trail' (Escort / Tour Guide / Guide / Cicerone / On Baedeker's Trail):
Send 750 / 3,000 / 12,000 / 40,000 / 90,000 citizens on trips at the Terminal
Reward:xx/ xx/ xx/ xx/ xx
In Pursuit of Avocado (In Pursuit of Avocado / Avocado Lover / Sweet Tooth / Avocado Hunter / True Exotica!): 15 / 25 / 75 / 150 / 400 avocado from trips at the Terminal -- Reward:

Tiered Achievements: Production
Edit
Complex Construction (... /... /... /... /Complex Construction)
Fill 5 / 15 / xx / xx / 120 contracts at the Design Office -- Reward:
Industrialist (Project Planner / Engineer / Industrialist / Major Industrialist  / Monopolist)
Build 4 / 7 / 15 / 25 / 50 Industrial Buildings -- Reward:
Inventor (Bachelor/ Master/ Engineer/ Inventor/ xx ):
Create 3 / 10 / 30 / 60 / 100 modules at the Research Center -- Reward:
Iron Businessman (... /... /... /... / Iron Will)
The robots have to complete 3 / xx / xx / xx / 450 contracts at your Robotarium -- Reward:
Seasoned Seafarer (Cabin Boy / Seaman / Sailor / Seasoned Seafarer / ... )
Fill 10 / 25 / 50 / 100 / 200 containers at your Commercial Port -- Reward:
Transporter (Driver / Transporter / Autopark Manager / Autopark Owner / Transportation Company Director)
Buy 3 / 7 / 25 / 75 / 150 vehicles -- Reward:
Tiered Achievements: Social
Edit
Kind Benefactor (Selfless / Magnanimous / Noble Helper / Kind Benefactor / Hope and Support:
Fill 10 / 25 / 50 / 100 / 200 containers at your friends Commercial Port -- Reward:
Valuable employee (... / ... / Manager / Administrator / Valuable employee)
Earn xx / xx / 10000 / 25000 / 50000 rating points at your Corporation -- Reward:

Tiered Achievements: Events
Edit

Tiered Achievements: Special
Edit
Loving Hearts
Collect 2 / 5 / 15 / 30 / 75 Romantic Gifts (in the 2016 Valentines Day event) -- Rewards:
Most Generous
Feed the Easter Bunny 5 / 15 / 30 / xx / xx times during the Easter Bunny Boss Fight -- Reward:
Giant Heart
Send your friends 5 / 20 / 20 / xx / xx Gifts from Cupid (2016 Valentines Day event) -- Rewards:
You worked hard all year!
Get 5 / 15 / xx / xx / xx presents from the Christmas Sleigh -- Reward:
Under the Influence of Sugar (.../ .../ .../ .../ Under the Influence of Sugar)
Get xx / xx / xx / xx / 2500 treats for Nessie -- Reward:
The Bane of Giants (.../ The Bane of Giants/ .../ .../ ...) (2014 Winter Event)
Overcome the Ice Giant xx / 15 / 30 / xx / xx times -- Reward:
Hero of Christmas (Animator/ Hero of Christmas/ .../ .../ ...) (2014 Christmas Event)
Cheer up Santa 5 / 15 / xx / xx / xx times -- Reward:
Tracking Leprechauns (.../ .../ .../ .../ Tracking Leprechauns) (2014 St. Patrick's Day)
Get xx / xx / xx / xx / 300 St. Patrick's Day resources -- Reward:
... / Leprechauns' Greeter / Leprechauns' Acquaintance / Leprechauns' Buddy / Leprechaun Best Friend: (2013 St. Patrick's Day)
Get ... / 100 / 150 / 250 / 300 St. Patrick's Day resources -- Rewards:
Clover-gunner (Clover-gunner/ .../ .../ .../ ...) (2014 St. Patrick's Day)
Defeat leprechauns 5 / xx / xx / xx / xx times -- Reward:
Cupid's Squire (.../ Cupid's Squire/ .../ .../ ...)(2014 Valentines Day)
Help Cupid xx / 15 / xx / xx / xx times -- Reward:
Turkeys love you! (... / ... / Kindhearted / ... / Turkeys love you!) (2012 Thanksgiving Event, ?)
Treat xx/ xx/ 60 / xx/ 120 turkeys -- Reward:
Party Planner (Party Planner/ Holiday Organizer)
Collect 125 / 300 / xx / xx / xx resources for the 2016 Big Birthday! event -- Reward:

One Time Achievements
Edit

One Time Achievements: City
Edit
Better than Eiffel
Complete the tremendous construction of the Eiffel Tower
Enough space for all!
Secret achievement - from the icon it appears to be the completion of the Commercial Warehouse
Reward: 75, 20.000, 7, 15
For each its own place
Secret achievement - from the icon it appears to be the upgrade of the Commercial Warehouse
Reward: 125, 75.000, 15, 25

One Time Achievements: Production
Edit
Robot Technician
Build a Robotarium
Reward: 140, 2500, 1
Machinist
Upgrade the Robotarium to Level 3
Reward: 180, 6000
Team Player
Complete Corporate Plan 5 times in a row (in your Corporation)
Reward: 1500, 12,000, 4
One Time Achievements: Social
Edit
Big Boss
Create your own Corporation or join any existing
75px A Place in the Sun
Build the Domino Recreation Center
Reward: 150, 30,000, 15, 25

One Time Achievements: Events
Edit

One Time Achievements: Special
Edit
Architectural Treasure
Upgrade your Diamond Boutique to level 5
Reward: 200, 75,000, 15, 25
Friend of the Easter Bunny
Offer a treat to the Easter Bunny (during an Easter Bunny Boss Fight)
Reward: 175, 7,000 15
Hopeless Romantic
There is more than one "Hopeless Romantic" Achievement; this one is separate from the Special one-time achievement to build the Romantic Hotel, or the City one-time achievement to build 10 Romantic Corners.
Upgrade the Aphrodite Salon to level 5 (during the 2016 Valentines Day event)
Reward: 175, 35,000 10, 25
Santa's Helper
Build Santas House
Reward: 125 , 12500 , 5 , 15
Main Winter Construction Project
Upgrade Santa's House to level 5
Reward: 200 , 20000 , 5 , 15
Strong and Independent
Place 10 Cat Sculptures in the City
Reward: 100, 10,000, 5, 10
Most Grateful
Upgrade the Magic Pie Cafe to level 5
Reward: 200, 20,000, 5, 15
Love Is in the Air
Build an Aerial Heart
Reward: 100, 10,000, 2, 15
Atmosphere of Love
Upgrade the Aerial Heart to level 3
Reward: 125 , 20000 , 5 , 15