Event Description
Edit
This event is a temporary event in Bug Business that ran March 15 - 22, 2013.
"Hurrah! St. Patrick's Day is right around the corner! Leprechauns have already come out of their dungeons and set out to our city to drink ale and sing their songs. Join the fun and festivities! Collect holiday items, interact with citizens, complete all of the event's requirements and build the main building of St. Patrick's Day - the legendary Leprechaun Treasury!"
Duration and Reward
Edit
Event duration: 7 days
Event reward: Leprechaun Treasury
Event tasks
Edit
Event Special Achievements
Edit
Leprechauns' Greeter / Leprechauns' Acquaintance / Leprechauns' Buddy / Leprechaun Best Friend: Get 100 / 150 / 250 / 300 St. Patrick's Day resources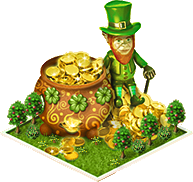 During the event, players were able to send one another a Leprechaun gold decoration for 5 clovers.
Ad blocker interference detected!
Wikia is a free-to-use site that makes money from advertising. We have a modified experience for viewers using ad blockers

Wikia is not accessible if you've made further modifications. Remove the custom ad blocker rule(s) and the page will load as expected.