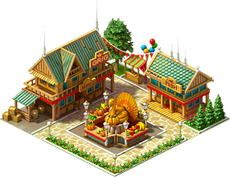 Description from Facebook post with links to associated buildings:
"Hello, dear bosses! Let the Thanksgiving Fest in your city begin! Open new buildings: Rich Harvest shop, Turkey cafe, Turkey statue. Open Thanksgiving Day Parade and special Thanksgiving Day Fair! And to help you celebrate Thanksgiving Day we present you our gift code: present18"
Associated Achievements:  "Holiday Organizer" and "Turkeys love you!"
Ad blocker interference detected!
Wikia is a free-to-use site that makes money from advertising. We have a modified experience for viewers using ad blockers

Wikia is not accessible if you've made further modifications. Remove the custom ad blocker rule(s) and the page will load as expected.